EXCITING NEWS – NEW Affinity Leotards!
We FINALLY have the merch you've all been waiting for.... our new leotards and shorts.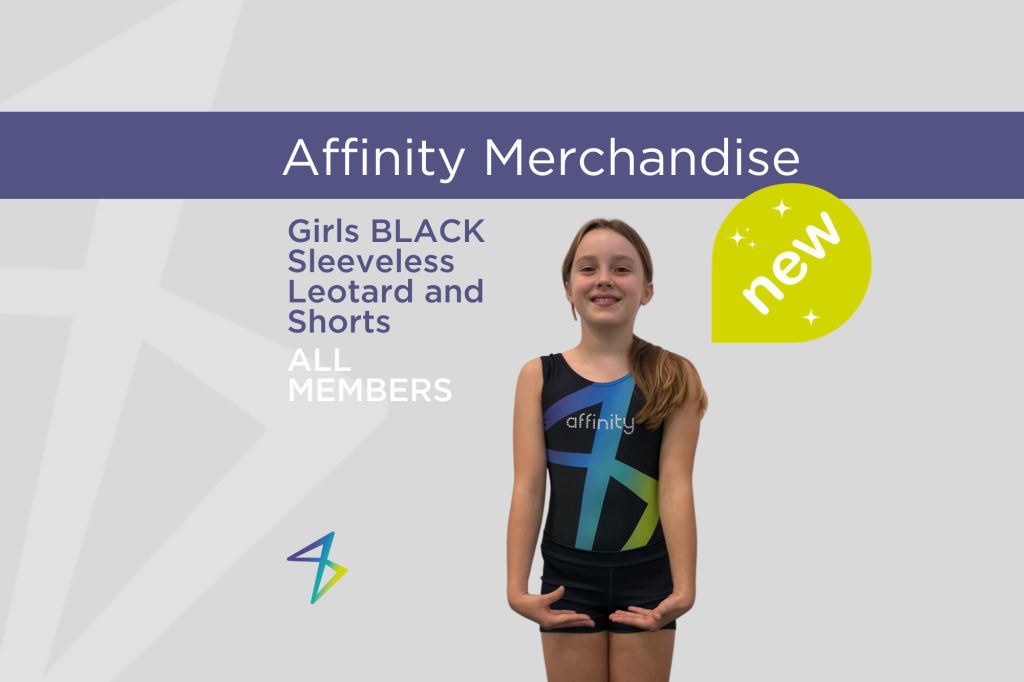 They are specially designed by us, and unique to our Affinity athletes. (Can you tell we're all a bit excited about this…)
Now, as ever, merch is always absolutely an optional add on (unless you are in a squad group that competes outside of Affinity). We want you to focus on classes and not have to worry about extra things or costs. Plus for each athlete to wear what they wish to express themselves at class.
Having said that, if you want a new club leotard… they are now on offer. And they are pretty nice. 
We have a few options depending on what area of the club you are in:
Everyone:
Can purchase the black logo sleeveless leotard. Matching shorts are also on offer. These have diamante 'Affinity' on the back and our logo.
Squads:
Opal, Amethyst and Emerald squads: This leotard is teal, sleeveless with our colours on the top plus added sparkles. There are matching teal shorts with diamante 'Affinity' on the back and our logo. Check out 
Diamond squad: You get to 'gain your sleeves' and have a teal, long sleeved leotard with mesh and sparkle details. There are matching teal shorts with diamante 'Affinity' on the back and our logo. 
If you are in a squad, you are welcome to purchase the black leotard for training. We will however require you to have the relevant teal leotard for events outside of the club. So we recommend just getting this one.
How does ordering work?
We're doing a first order ready for Xmas – so if you need a great gift idea, this is it. We will be open for orders until Wednesday 1st November then the shop will close and the leotards will be produced and delivered before xmas. In the new year, we'll open up orders again and inform you the slot times then. Please note – we cannot place ad-hoc orders for these, you will only be able to order at selected slots throughout the year.
All the details are available here on our Members hub, along with a gallery and size guide for all our merchandise.  To then order, follow the link to login to your account, and they will be available to purchase under 'Optional Extras'.