These classes start for those children of school age – reception year and upwards. It's open to all but we find it is particularly attractive to boys (but we of course love that we have Parkour girls in the club too!).
This is a more fluid, adventurous style of gymnastics and we utilise the incredible large sprung floor at our site at Goffs Churchgate Academy.
At Affinity, our take on this is to fuse traditional gymnastics skills with parkour, freerunning, tricking and ninja skills – tailored to each age group and also their individual needs.
Parkour is dynamic and exciting and is gaining popularity within the UK for providing participants with the ability to express themselves creatively through movement and an incredible range of tricks.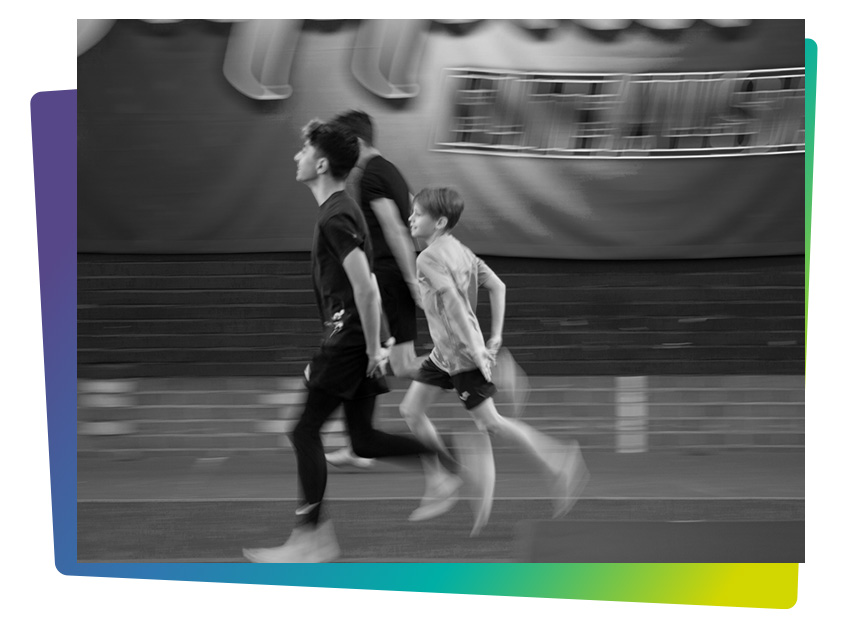 Timetable, term dates and availability
You can join us at any time. Check out our timetables for further information about term dates, days and times of our classes and availability.
We update classes with available slots on our timetable every few weeks. If you would like to receive updates on free taster classes and class availability, join our mailing list to stay updated. You can also email us at anytime to check availability! 
We want to make sure you are happy and your child enjoys class with us. Once there is an available slot at the class, location and time you want, we'll ask you to sign up to a membership and pay relevant fees. However if you sign up and decide it isn't for you after the first one or two classes, we'll refund the rest of the fees paid without any fuss.
We do it this way to ensure your place at the class, location and time you want remains secure throughout and after your trial period.
What to expect at affinity Parkour classes
Parkour is an active class! ​
For our athletes at Goffs, the classes include a large circuit on floor and apparatus to warm up, followed by three apparatus rotations using floor, vault, wall and tricking.
​Parkour gets your body moving in ways never thought possible. It will get your heart racing and develop a heightened sense of spatial awareness that can be put to use in many other sports and activities.
Top five reasons we love Parkour
It's fun! Soooooo much fun. Time to play! We use various apparatus to develop the full range of gymnastics skills including flexibility, balance, free flowing and allows us to move more. There's more learning by doing and less sitting around thinking about it – you just go for it!
Creativity. Combinations of skills and inventing new tricks and combinations. The skills aren't rigid, they are owned by the performers and new ways of performing them are encouraged. We love the technical side of gymnastics but here the performers are in charge and not a judging system. Want to do that skill onto one leg, with a different shape, into something else? You got it.
Challenge – right, so who can jump the furthest between two blocks? Who now wants to have a go? EVERYONE. Are you motivated to push the block a little bit further, stretch yourself a little more? Totally. onto one leg, with a different shape, into something else? You got it.
Adventure. Run risk-taking in a safe environment. Yes, you see parkour type movements done outside. But come into the gym and learn first. New innovative types of gymnastics equipment replicate the outside (often hard, concrete) environment with soft, safe foam matting. That risk is safe but still exhilarating.
No limits. This has always been a part of our club philosophy – anything is possible. Parkour really fits with this and removes even more limits and barriers to our sport. A child who may not progress well at 'traditional' gymnastics can really excel at parkour. The sport is getting wider and more accessible.