Affinity was founded in September 2006 by Jennifer Page, at Sheredes Primary School in Hoddesdon, Hertfordshire, UK. After the school purchased some gymnastics equipment from a lottery award, Jen became the coach to run the classes. It became so popular within its first year that the school asked Jen to take over the running of the club as well as the coaching.
In September 2007, the club (then named Sheredes Gymnastics) became registered with British Gymnastics, continued the school after school sessions and started adding pre-school classes on Saturdays and competitive squad classes later in the evenings.
Our first gymnasts competed within Hertfordshire in early 2008 and the club continued to develop, adding more days and classes and coaches. 
To reflect the growth and development of club, the need for its own identity became apparent. We rebranded the club to Affinity Gymnastics in 2012 and the search for our premises began. We wanted to offer a unique experience where people of all ages and abilities can feel good about themselves, and achieve success in an atmosphere designed for health, movement and fun. 
After much searching (and visualisation!) we found a local space, renovated it, and Affinity HQ in Hoddesdon was opened in August 2014. Classes continued at Sheredes Primary School, as they do today.
The club pretty much tripled in membership over the next 18 months, culminating in winning the National Club of the Year award from British Gymnastics. 
We then expanded our offering and developed Parkour as one of our activities, reflecting the broadening of the sport and our innovative approach.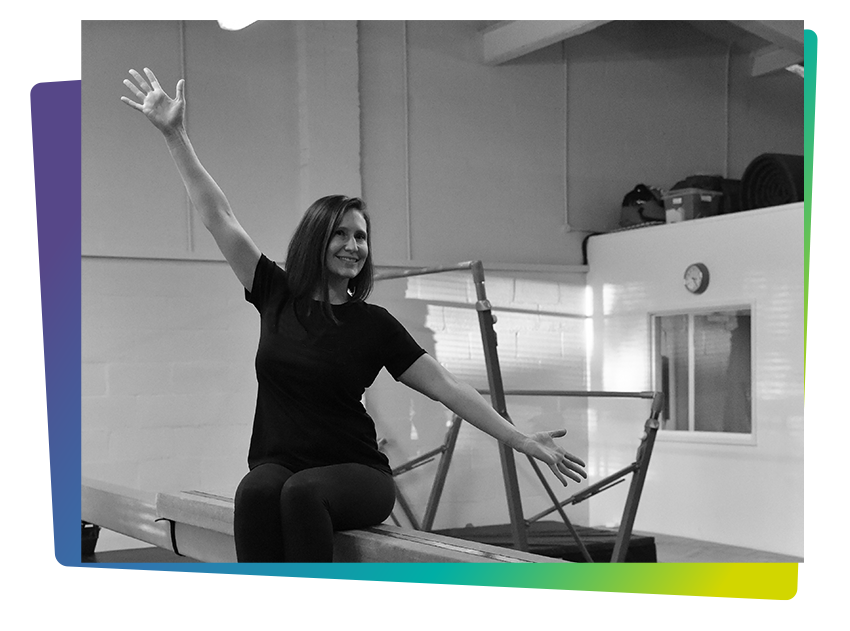 Affinity Gymnastics continued to go from strength to strength in the years that followed and an exciting opportunity arose in 2019 to collaborate with Sapphire Elite Cheerleaders and we're all now part of the same family.
In the more recent years we renamed Affinity Gymnastics to become Affinity Academy to encompass our larger, united organisation offering a wider range of classes. I n 2023 we evolved our branding and launched a fresh new identity to better show on the outside what we stand for and where we're going.
Even more excitingly, 2023 has also brought us a whole new HQ home. After a renovation project we moved our HQ from upstairs into a much larger downstairs space at Plumpton house. At more than double the size, it's a huge upgrade for everyone. Parents get a larger dedicated reception area and ground floor entrance, athletes have a massive new sprung floor, vault and double the amount of bars and beams.

Our aim is to create a unique and inspiring experience where people of all ages and abilities can feel good about themselves. We want all our pupils to achieve success in an atmosphere designed for movement, health and fun.
Delivering inclusive, friendly, high-quality coaching in an environment that recognises individual achievements (as well as competitive ones), igniting self-belief and nurturing life skills.
We call them Team Awesome, well, simply because that's what they are!
They all play a huge part in making Affinity and Sapphire so STRONG and working hard to be role models to the next generation.
Cheer (Sapphire Elite) Co-Lead
Cheer (Sapphire Elite) Co-Lead
Memberships and Accounts Administrator

The staff are fabulous and my son, who has some minor sensory issues and struggles in groups, was helped to feel completely at ease from the start and his confidence was built 100%. He loves the weekly sessions. They are active, engaging and designed to build ability in the basic skills. The staff are patient and friendly. We have had a wonderfully positive experience with Affinity and highly recommend them.

What a fantastic and supportive Gymnastics club this is! They dedicate so much time to focus on each child individually, making you feel like you are important to them. The coaches are fun and engaging and the equipment/space is great. Highly recommend!

Without doubt, my son's favourite hours of the week are spent here. Affinity awesomeness is what every child (and adult!) needs. I absolutely love the energy of this place… Every parent wants their children to have positive role models and Affinity have positivity, in bucket loads. Thank you Jen, Dan, Eleanor and everyone else behind the scenes making the awesomeness happen. We really do appreciate it.

My son is 9 years old and attends gymnastics sessions with Affinity. He absolutely loves everything about it and looks forward to his session each and every week. Staff are incredibly friendly and make it very fun for the children. Would highly recommend Affinity!

For me it's the coaches that make Affinity worthy of 5 stars. My normally shy 6 year old is now beaming with confidence and progressing so well. Thank you everyone at Affinity!! Highly recommend!!