Brand New DAYTIME CLASSES for Under 5's
We're so excited to announce that we have TWO BRAND NEW CLASSES coming soon!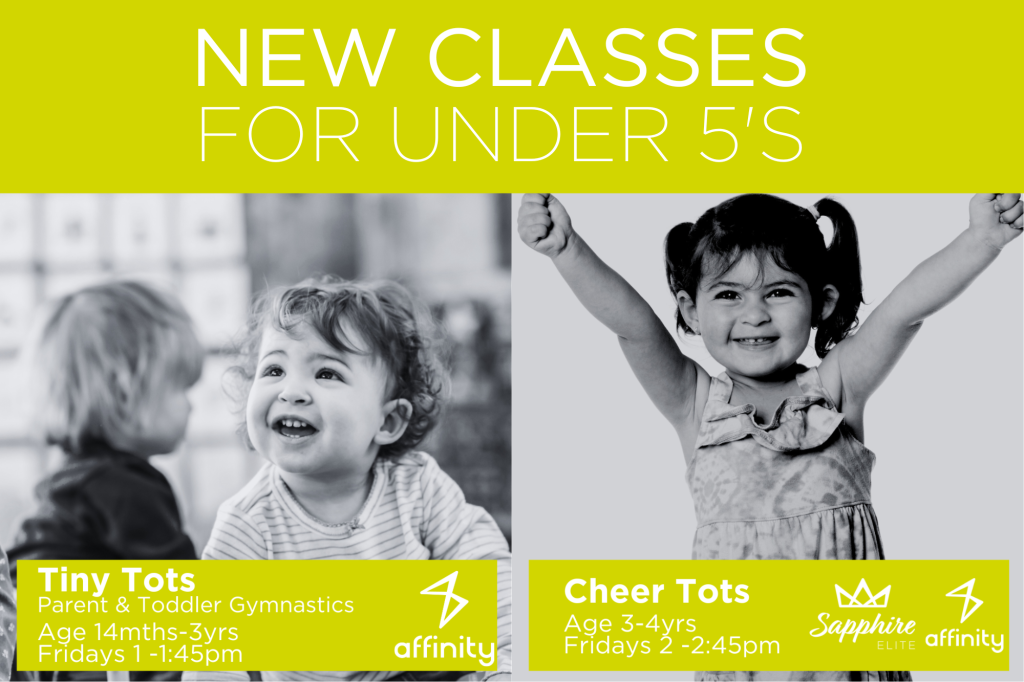 If you have any younger children you'll be pleased to learn we have two new Pre-School classes on offer for you – they are TINY TOTS – Parent and Toddler Classes and CHEER TOTS for all those budding cheerleaders!
Please find below a brief description of each class.
TINY TOTS – PARENT AND TODDLER CLASSES
Age:  14 months – 3 years
Class length:  45 min
Day and Time:  Fridays 1:00 – 1:45pm
Location:  Affinity 'NEW' HQ, Hoddesdon
Introducing the "Tiny Tots" class – a special bonding experience for parents and toddlers aged 14 months up to 2 years old.
Class Structure:
1. Free Play: We kick off each session with a free play segment, allowing your child to explore all our gymnastics equipment under your watchful eye. This is a wonderful opportunity for your little ones to build confidence, whether it's walking on the beam or experiencing the thrill of jumping off a high vault.
2. Circle Time: Following free play, we gather in a circle to introduce different hand apparatus, letting your child get a feel for different tools of gymnastics in a fun and communal setting. 
3. Skill Achievement: Each class, your toddler will have the chance to complete a skill from their award card. Upon successful completion, they'll be awarded a sticker on their card, marking their progress. As your child collects stickers and completes their award, they will earn a special badge to take home. This not only celebrates their achievements but also marks their progression to the next colour award.
We believe the "Tiny Tots" class offers a nurturing environment for toddlers to take their first steps in gymnastics while strengthening the bond between parent and child. We can't wait to see the joy and sense of accomplishment in both your and your toddler's eyes as you embark on this gymnastics journey together. Spaces are limited, so we encourage you to sign up soon to secure your spot. We are committed to ensuring a safe and enriching experience for every child and parent. Thank you for being a part of the Affinity Academy family. We look forward to seeing you and your tiny tot in action!
CHEER TOTS
Age:  3 – 4 years 
Class length:  45 min
Day and Time:  Fridays 2:00 – 2:45pm
Location:  Affinity 'NEW' HQ, Hoddesdon
Our new *Cheer Tots* programme is designed to introduce preschool children to the basics of cheerleading while developing social skills, confidence and physical development. Each week we begin with a fun warm up together on our bouncy floor, before learning a short cheerleading routine to music. These classes have been designed and structured to develop essential skills in a fun, informal manner within a stimulating and safe environment.
Here's how we break down and structure our mini cheer classes;
After our warm up…
Dance – Learning to listen and move to the beat of the music using short movement sequences. Each term there will be a new dance sequence to learn.
Isolations – Simple motions including Broken T, High Clasp, Clean and many more. As well as learning lib and arabesque balances.
Tumbling –  We will go through the first essential steps towards gymnastics and tumble skills by starting to take body weight on your hands and learning how to roll safely.
Jumps – Straight jumps, star jumps, tuck jumps… we will learn how to take off and land safely on two feet whilst making all kinds of shapes in the air.
Team building – Introducing simple stunts and trust exercises that build confidence
We finish with a cool down before getting our going home sticker!
Tiny Tots Parent & Toddler (Age 14mths-3yrs)
Fri 1-1:45pm
Cheer Tots (Age 3-4yrs)
Fri 2-2:45pm
The classes are priced on a rolling membership basis of £40 per month.
Please note – the class will begin when we have a minimum number in the class. You will be advised when this number has been reached and a start date.
To register your interest for these classes please click below, or if you're already a member of Affinity, please email hello@affinityacademy.co.uk.